Bone Broth 101, Bone Broth Recipes
20 Delicious (and Nutritious) Bone Broth Soup Recipes to Make You Feel Awesome
The foundation for any great soup is a flavorful, wholesome broth—and there's no better foundation than bone broth.
While it's a meal all on its own, bone broth can easily be turned into a delicious soup for a quick and healthy meal any night of the week. Any classic soup, from creamy tomato to chicken noodle, can be instantly amplified and enriched with the addition of a little slow-simmered bone broth.
The health benefits of bone broth are many, including helping to heal digestive issues, improving recovery, and relieving joint pain. It can even alleviate symptoms of illness, helping you  fight the flu or beat a cold. Adding bone broth to your favorite soup recipe makes it that much better for you.
Here are 20 delicious, nutritious bone broth soup recipes to add to your recipe repertoire.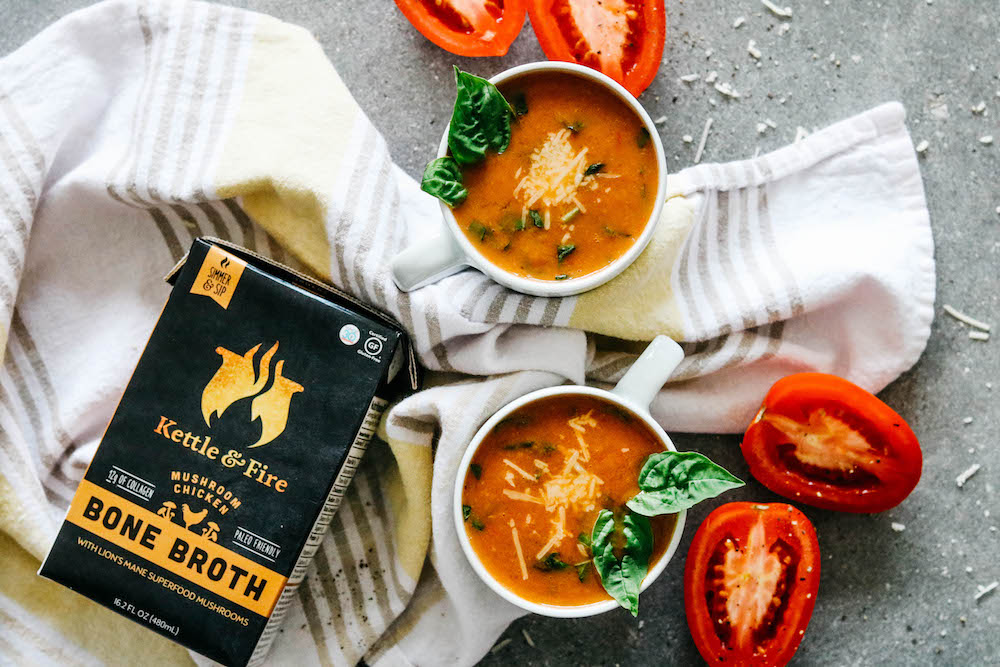 Nothing says home like a warm bowl of creamy tomato soup topped with cheddar cheese on a cold winter day. The canned stuff is woven into the fabric of American childhood, alongside the melty grilled cheese sandwich to dunk into it. This delicious tomato basil soup recipe harkens back to those days while also satisfying your adult taste buds and offering fresher, healthier ingredients. This recipe uses fresh produce instead of canned tomatoes and dried basil. It also includes coconut milk instead of heavy cream to make it creamy, which pumps up the healthy saturated fat content of the soup.
When cooked at home with a ready-made bone broth, traditional chicken tortilla soup can be an easy, delicious, and nutritious alternative to this favorite recipe from Mexican restaurants. The secret is lots of fresh lime and crispy baked tortillas. That's what makes this one of those healthy recipes that will keep you satisfied.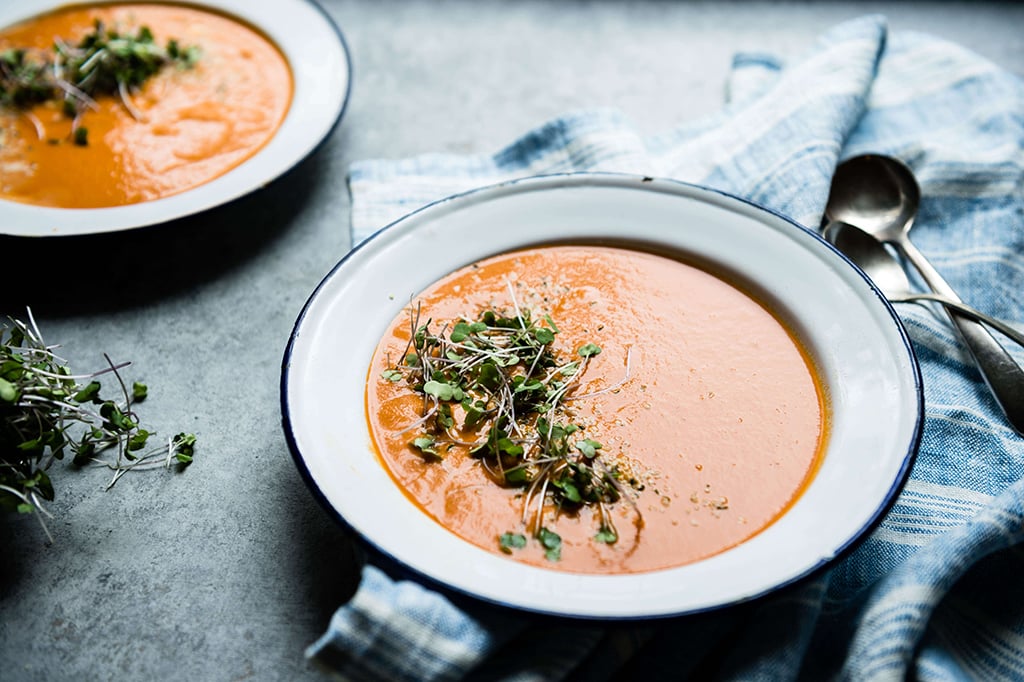 Coconut milk, bone broth, and a hint of turmeric-tinted curry make this creamy tomato soup a healthier, dairy-free version of the classic that's sure to become one of your new favorite homemade tomato soup recipes. In addition to the health benefits of turmeric and bone broth—including reduced inflammation and better digestion—this tomato soup recipe calls for more vegetables, including red bell pepper and carrots, to add a slight sweetness and more nutrients, like vitamin C.
A "healthy" potato leek soup might seem like an oxymoron, but this recipe managed to tweak a few key ingredients in this classic comfort food to create a more nutritious option. This version remains a satisfying and delicious recipe while hiding healthier ingredients in the soup pot. Traditional potato leek soup typically includes russet or yukon potatoes, heavy cream, and butter. It's also typical in most recipes that the green part of the leek (the part where most of the vitamins and nutrients reside) is tossed in the compost—not so in this version.
Like spring in a bowl, this leek, fennel, and asparagus soup recipe relies on avocado to add all that creaminess and good fat, while Kettle & Fire's Chicken Bone Broth piles on the protein and a good dose of nutrients that are hard to find in other food sources. Fresh lemon thyme adds another layer of tang, while a squeeze of lemon at the end brightens the whole dish up. It's one of those healthy recipes that you won't be able to get enough of.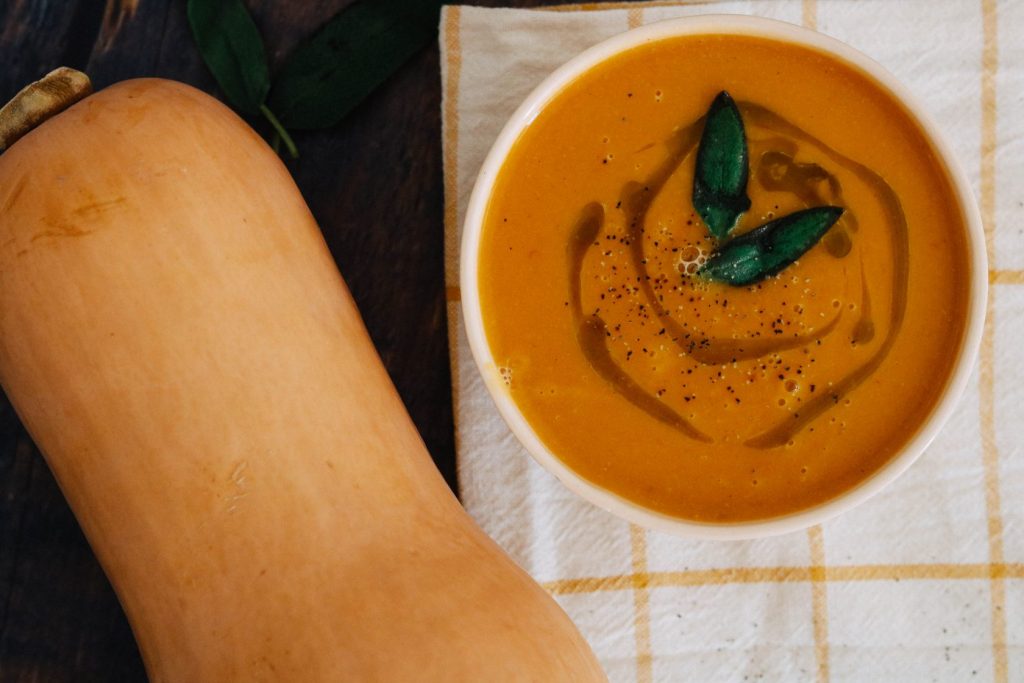 Butternut squash soup is a rich, creamy comfort food that's often loaded with milk or heavy cream and butter. This version of this tasty treat uses full-fat coconut milk and ghee instead, giving you the same rich experience without the lactose that tends to bother those with gut issues.
Smoky, smooth, and just a bit spicy, this healthy black bean soup reinvents the American classic with a little Southwestern kick. Big on flavor, filling, and extremely nutritious, this hearty soup is almost the perfect dish. While high in carbs, black beans are an excellent source of dietary fiber and protein with little fat. They're also a great source of folic acid and magnesium, as well as potassium and iron. And because they're so rich in flavor, there's no need to add additional ingredients like ham or bacon.
Leek, asparagus, and kale cooked in a nourishing bone broth and topped with a peppery arugula pesto all come together in this great recipe to make a springy green minestrone soup.
This recipe ups the flavor and nutrient content of this already healthy soup with supergreens, collagen-rich Kettle & Fire Chicken Bone Broth, and a hearty arugula-and-walnut pesto that brings out all the flavor.
Tender bits of shredded chicken cooked in coconut oil and bone broth are the highlight of this healthy chicken soup recipe. Sweet leeks, green peas, and chives make it a perfect spring soup that's light yet satisfying. The addition of brown rice makes it a healthier, more easily digestible version of a classic chicken noodle soup.
If you're in search of a great sweet potato recipe that's not sweet potato fries, baked sweet potato, or sweet potato casserole, this free recipe is for you. With only 10 ingredients and one cooking vessel, this healthy sweet potato soup will amaze you—it is creamy, quick, and delicious!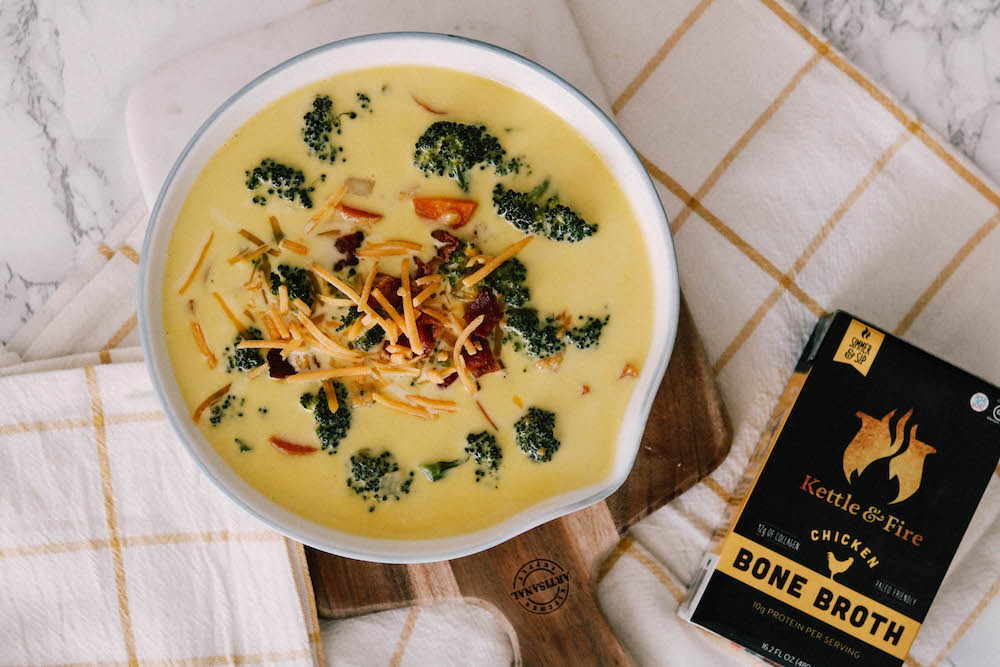 Topped with crunchy bacon bits and full of cheesy goodness, this broccoli cheddar soup is a keto-approved comfort food that's sure to satisfy your taste buds—and your macros.
This keto-friendly broccoli cheese soup recipe is pretty darn close to the classic version, but without the addition of flour or potato starch (which some traditional soup recipes use as a thickener). It is also gluten-free.
Spicy, pungent kimchi is the secret ingredient in this wholesome cabbage soup recipe that's loaded with flavor. Made with fresh and fermented cabbage, this healthy recipe is low in calories and super high in fiber. The combination of fresh garlic, ginger, soy sauce and sesame oil make it like a stir-fry comfort food in hearty soup form, and browning a little ground pork makes it a filling main meal.
In any corner of the world, lentil soup is a filling, delicious, and nutritious staple. Upgrade it with a little Kettle & Fire Chicken Mushroom Bone Broth, and it's more than just a healthy soup—it's a protein-packed nutritional powerhouse. Made with typical pantry staples, this delicious soup is a main dish that's perfect for an easy weeknight dinner that doesn't take a long time to cook.
Smoky, smooth, and surprisingly light, this quick, healthy and creamy cauliflower soup is low in calories, carbs, and saturated fat, but high in flavor and nutrients. This recipe is like a healthier, leaner version of potato soup. And thanks to the addition of Kettle & Fire's collagen-rich chicken bone broth, it's also packed with protein and essential minerals.
Tangy tomatillos, mild green chili, and chicken cooked into a mushroom-infused bone broth—what could be more comforting and satisfying than a chili verde soup?
Tomatillos, also known as green tomatoes, are considered a staple in Mexican cooking.  They're often used to bring a tart and refreshing bite to soups and salsas. Nutritionally, tomatillos are an excellent source of fiber, iron, niacin, potassium, and manganese. They're also high in vitamin C, which you can't have enough of during cold and flu season.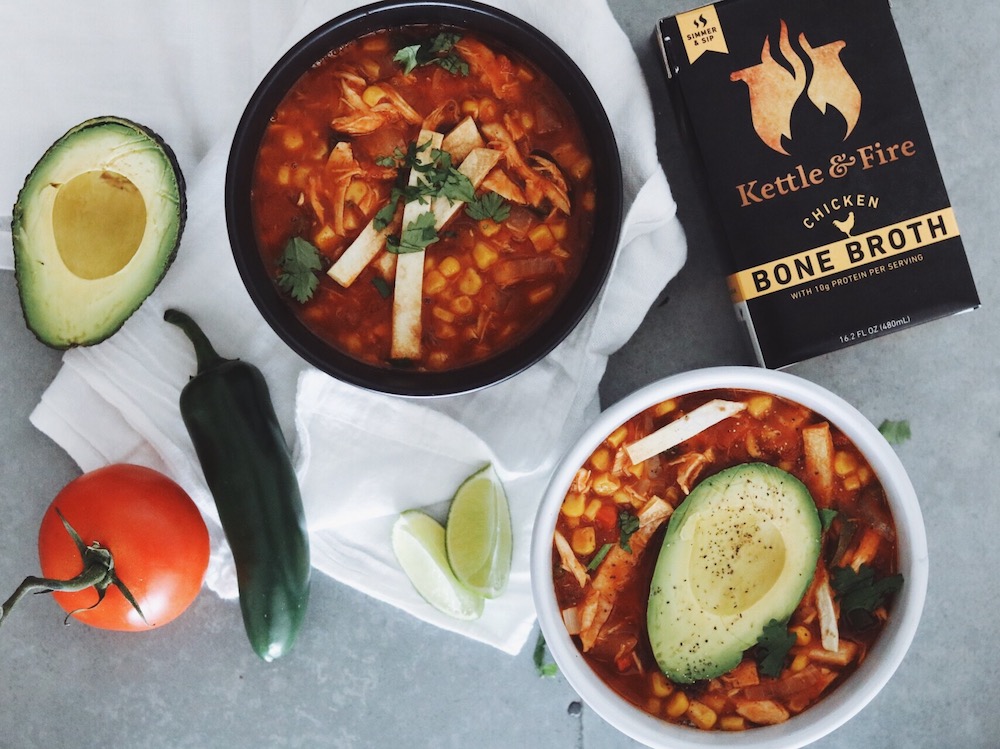 With a tomato base, hearty vegetables and lots of cilantro, chicken tortilla soup is good for the soul and full of mouthwatering aromatics. This version simply expands on the classic with a good dose of chicken bone broth.
This classic Vietnamese soup is already rich in antioxidants, vitamins, and minerals. And with the addition of beef bone broth, you get even more health benefits thanks to the beneficial protein, collagen.
This is a slightly upgraded version of classic chicken noodle soup made with chicken bone broth instead of regular broth or stock. Fat noodles and lots of great veggies made this a hearty soup the whole family will enjoy.
Paleo Pumpkin Soup with Bone Broth and Coconut Milk
This pumpkin soup recipe is quick, nourishing, and incredibly easy to make — without skimping on flavor. This recipe blends aromatic spices like ginger, garlic powder, cinnamon, and nutmeg to bring the essence of fall into your soup mug.
The foundation for any great soup is a flavorful, wholesome broth—and there's no better foundation than bone broth.
When you're not enticed by hot soup during the heat of summer, try a chilled gazpacho recipe instead. This bone broth gazpacho with cilantro chimichurri offers an exciting recipe using summer vegetables in a cool, refreshing way.
Kettle & Fire Ready-to-Drink Bone Broth Soups
If you don't want to make your own soup or can't find the time to do so, Kettle & Fire has you covered! We've reinvented the classics with our ready-to-eat bone broth soups.
We took classic tomato soup and gave it the signature Kettle & Fire makeover using our chicken bone broth as the base. Then we added organic tomatoes, olive oil, and spices, and finished it with a little coconut milk to create the ultimate, comforting, creamy blend.
Using our collagen-packed chicken bone broth as the base is just one of the ways we jazzed up a standard butternut squash soup recipe.  We then added creamy organic coconut milk and aromatic herbs and spices to make it the best vegetable soup you'll ever taste.
We tinkered with a traditional miso soup recipe and gave it a twist of our own. Our miso soup is packed with the same great umami flavor but with even more nutrition thanks to the addition of Kettle & Fire Chicken Bone Broth. We've slow-simmered all the traditional ingredients together—ginger, garlic, seaweed, onion, and miso paste—to create the most flavorful and nutritious miso soup there is.