Paleo Butternut Squash Soup
Butternut squash soup is a rich, creamy comfort food that's often loaded with milk or heavy cream and butter. Our version of this tasty treat uses full-fat coconut milk and ghee instead, giving you the same rich experience without the lactose that may bother those with gut issues. While ghee (or clarified butter) is still a dairy product, some people find it easier to digest than butter because the proteins (casein and whey) and sugars (lactose) have been removed during clarification. However, if you wish you can replace the ghee with coconut oil.
Health Benefits of Coconut Milk
We chose to include coconut milk in this recipe as an alternative to conventional dairy products. Coconut fat, while saturated, is made up of  medium-chain fatty acids. These metabolize more quickly than the longer-chain fatty acids found in dairy fat. (Dairy fat is also saturated.) What does that mean in simple terms? It means that coconut fat may convert to energy more quickly. It doesn't park itself on your belly or your thighs as easily as longer-chain fatty acids (like those found in milk and heavy cream).
Winter Squash Shortcut
At first glance, you might see that the cooking time in this recipe seems long. That's because winter squash takes a long time to cook in the oven. However, there's no prep time. With this easy recipe, you're putting an entire butternut squash into the oven—uncut, unpeeled, un-punctured. You won't be chasing your squash all over your countertop as it rolls away from your knife or peeler, and you won't risk cutting yourself in the process, either. Your only job is to flip it at the halfway point. This kitchen shortcut makes this the easiest roasted butternut squash soup you'll ever make. You could even make it in a crockpot or slow cooker.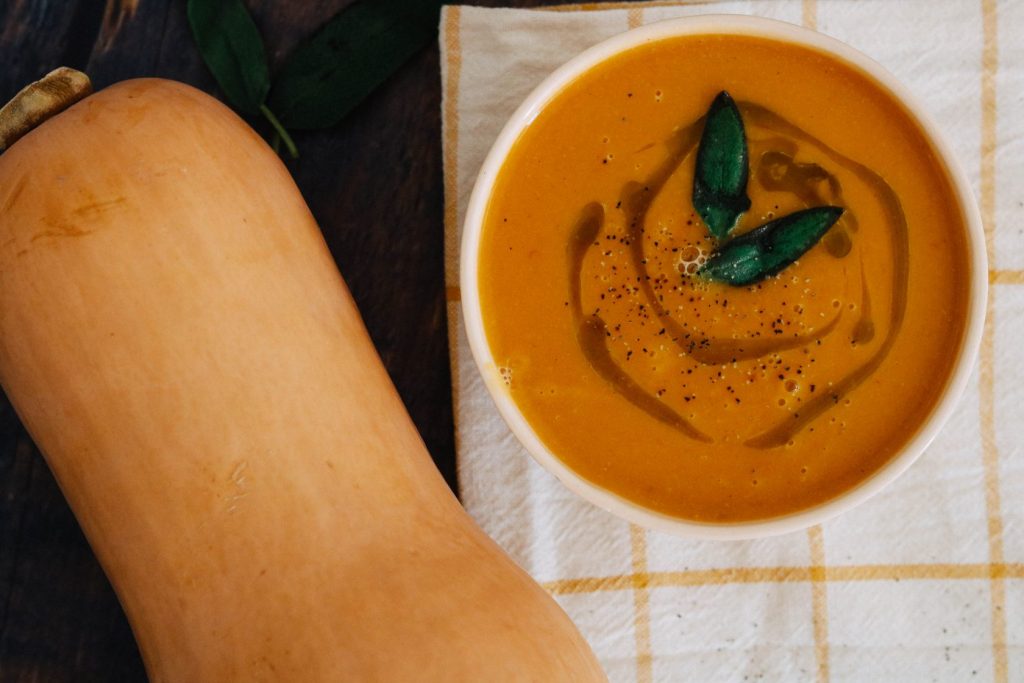 Creative Soup Innovations
Butternut squash is one of many winter squash options to use as a base for a delicious, creamy squash soup recipe. Once you've mastered this one, use it as a reference to create pumpkin soup (a fall favorite of ours), or try delicata, acorn, or kabocha squash instead. You cook each of these winter squashes the same way—roasted whole in the oven, no fuss. We also encourage you to try this method using healthy root vegetables like sweet potato, celery root, and sunchokes. Combined with the high quality ingredients we've included below, you will create a masterpiece every time!
Choose Your Own Adventure
When it comes to soup texture, every opinion is the right opinion. We all have our preferences, whether we want our soup to be thick and creamy, smooth, chunky, or somewhere in between. Our preferences might also have something to do with the kitchen gadgets we have on hand, which is a perfectly acceptable guide for your soup-making adventures.
Our version is light and smooth because we use a high-powered blender to achieve the finished product. If you'd rather save yourself from the extra dirty dishes and dunk an immersion blender into the large pot you're using to cook, that will work well too. It won't be quite as light and airy, but it will still be creamy and delicious.
Another option that works well with either type of blender (or a food processor, if that's what you have) is to separate out half of the soup before blending. Once you've blended half of the ingredients to your desired consistency, add the other half back in for a heartier, chunkier version of this scrumptious, savory delight. Any way you slice it—or blend it—this comfort food will satisfy your craving without bloating your belly.
Paleo Butternut Squash Soup
This paleo butternut squash soup is a rich, creamy comfort food that's often loaded with milk or heavy cream and butter. Our version of this tasty treat uses full-fat coconut milk and ghee instead, giving you the same rich experience without the lactose that tends to bother those with gut issues.
Cook Time
1
hour
40
minutes
Total Time
1
hour
50
minutes
Ingredients
1

large

butternut squash

2

tablespoons

ghee

or coconut oil

½

large

yellow onion

chopped

2

cloves

garlic

chopped

1.5-

inch

piece fresh ginger

chopped

1

teaspoon

sea salt

plus more to taste

¼

teaspoon

sumac

¼

teaspoon

red chili flake

½

teaspoon

cinnamon

1

cup

water

¾

cup

canned coconut milk

1

teaspoon

apple cider vinegar

OPTIONAL TOPPING: freshly ground black pepper

extra virgin olive oil, fresh sage, and avocado oil for frying
Instructions
Place whole squash in a shallow baking pan and bake at 425°F for 1 hour 20 minutes, turning half-way through. When the squash is ready (it will give when you press on the skin), remove from the oven and cut in half. Scoop out the seeds, remove skin, and discard. Cut the roasted squash into 2-inch cubes.

While the squash is baking, loosely chop the yellow onion and garlic.

In a large stock pot over medium heat, melt the ghee. Add the onions and cook until translucent, about 5 minutes. Add the garlic and ginger, stirring to make sure the garlic doesn't burn. Stir in the squash and cook until combined, 3 minutes.

Stir in the bone broth, salt, sumac, red chili and cinnamon. Cover and cook for another 10 minutes. Remove from the heat.

Transfer the soup to a blender and blend until smooth. (Optionally, leave half of the soup unblended for a chunkier soup).

Return the blended soup to the pot. Turn the heat to low, then stir in water, coconut milk, and apple cider vinegar. Cook for another minute or two until warmed through. Add salt and black pepper, to taste. Serve.
Optional Topping:
In a separate frying pan, heat avocado oil. Add 3 to 4 sage leaves per person to the oil and fry until crisp, taking care not to burn them.

Drizzle each serving of butternut soup with a good extra virgin olive oil and top with fried sage.
Recipe Notes
Paleo | Gluten Free
Nutrition Facts
Paleo Butternut Squash Soup
Amount Per Serving (1 g)
Calories 132
Calories from Fat 108
% Daily Value*
Fat 12g18%
Cholesterol 12mg4%
Sodium 426mg19%
Potassium 104mg3%
Carbohydrates 3g1%
Protein 3g6%
Vitamin A 40IU1%
Vitamin C 2.1mg3%
Calcium 10mg1%
Iron 0.5mg3%
* Percent Daily Values are based on a 2000 calorie diet.