15 Delicious Ways to Use Bone Broth in Your Summer Cooking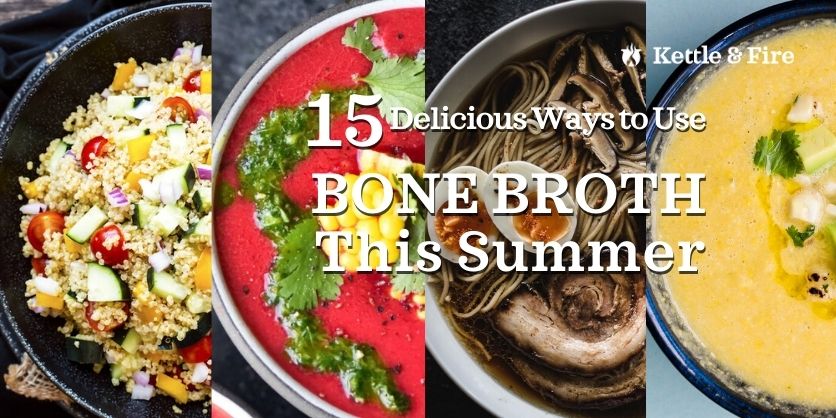 Light salads, morning energy smoothies, collagen-boosting gummy bears — these are just a few of the countless creative ways you can get more bone broth into your diet.
While sipping a hot and nourishing cup of bone broth is one of the easiest ways to get your daily dose of protein and energy-packed goodness, it might not be the first thing you want to reach for during the dog days of summer. You might also be short on time to make bone broth at home. But these are no reasons to miss out on all the health benefits of drinking bone broth.
Incorporate Bone Broth Benefits in Your Recipes
There are many healing properties of purchased or homemade bone broth. It can support gut health and aid digestive health issues such as leaky gut syndrome, thanks to collagen, gelatin, and a bounty of amino acids. Organic bone broth can also improve muscle recovery, relieve joint pain, promote healthy skin, boost the immune system, and can even support weight loss.
It's is an extremely versatile ingredient that can be used to infuse flavor and nutrient content in an unbelievable number of dishes, including cooked vegetables and grains, braised meats, condiments, and cool drinks. From a smoothie to a tasty side dish to the main event, there are plenty of ways to incorporate bone broth in your cooking.
To get your creative juices flowing in the kitchen, here are 15 delicious ways to add it into your summer recipe repertoire.
#1: The Ultimate Bone Broth Smoothie 4 Ways
There are few better ways to start the morning than with a healthy, fast, and filling bone broth smoothie. We came up with four twists on our ultimate bone broth smoothie recipe, each of which can be made in under five minutes. Choose from four flavors: blueberry protein, green, mixed berry, or pineapple mango ginger.
#2: GROUND TURKEY ENCHILADAS
Not feeling smoothies? Try some enchiladas. But not just any, make ground turkey enchiladas. This recipe will give you soft tortilla stuffed with tender turkey meat, drowned in a bold tomato based sauce with onion and a layer of melted Mexican-blend cheese.
#3: BONE BROTH ICE CUBES
Ice cubes are another way to sip on bone broth and cool you down in the heat. Flavored with herbs and spices, you can pop these protein-infused cubes into any beverage or add them to one of the aforementioned smoothies.
#4: BONE BROTH GAZPACHO WITH CHIMICHURRI
Sip on a chilled summer soup with this gazpacho recipe. Few things evoke summer cooking more than a zesty gazpacho. Rich bone broth works to enhance the fresh flavors of peak-season tomatoes and peppers in this light yet filling soup.
#5: CHILI CON QUESO TEX MEX RECIPE
It's hot, it's sunny, it's time for some nacho's and guacamole (that rhymes). But what if you're out of guac? Gasp! Don't fret, whip up something thats just as adictive in this Tex Mex Chili Con Queso Sauce recipe. Bonus, this recipe is a few noches higher on the "good for you" scale, so you can enjoy a few more rounds, guilt free. Just don't double dip.
#6: CHIPOTLE ROASTED VEGETABLE COUSCOUS
For a light accompaniment to a main meal, this chipotle roasted vegetable couscous is nutricious, filled with spicy and smoky flavor. Plus it's quick and easy to make with only seven ingredients you probably have in your kitchen right now.
#7: ASIAN BEEF LETTUCE WRAPS
For fresh weekday meals, you could try cooking meats in bone broth. The beef in these Asian lettuce wraps is flavorful and tender after cooking it in bone broth, while crisp lettuce leaves and a lemony vinaigrette keep them light and perfect for a hot summer day.
#8: QUINOA SUMMER SALAD
Another fresh idea: bone broth salads. Yes, bone broth salad is now a thing. And it might just become your new favorite, starting with this quinoa salad with bell peppers, cherry tomatoes, cucumbers, and red onion. Cooking the quinoa in bone broth instead of water infuses it with a meaty depth of flavor, and boosts the nutrition of the overall dish. Once you start cooking your salad grains this way, you may never go back.
#9: SHRIMP QUINOA SALAD
This shrimp quinoa salad kicks up the flavor a notch made with seasoned, tender tuna steak and cooked shrimp. It's equally nutritious and delicious, offering a healthy dose of lean protein and omega-3 essential fatty acids.
#10: KETO BBQ SAUCE
Summer wouldn't be complete without some classic cookout food. This keto friendly barbecue sauce could be the condiment to up your grilling game. Tangy, slightly sweet, and enhanced with nutrient-dense bone broth, it's perfect for marinating meats and finishing chicken, or as a dipping sauce for grilled vegetables.
#11: THE BLOODY BULL COCKTAIL RECIPE
You can have your daily dose of bone broth without cooking, heating, or entering a kitchen. Yes, there's a very good reason to keep bone broth behind your bar. Get the cocktail shaker and ice cubes ready: this bloody bull recipe is the ultimate pre-dinner savory cocktail or perfect wind-down treat on a sunny Sunday.
#12: BEEF NOODLE SOUP
Soup recipes, of course, are the most obvious choice for using up that bone broth. And while it might not be the first thing you think of in the summer, few things beat a killer bowl of ramen any time of year. With aromatics like star anise, ginger, and garlic infuse the beef bone broth base with authentic Asian flavors in the Szechuan beef noodle soup.
#13: AUTHENTIC HEALTHY MEXICAN RICE
Planning to make homemade burritos, tacos, enchiladas, or quesadillas for the summer? Great, learn how to make authentic Mexican rice in the comfort of your own cocinita with this recipe.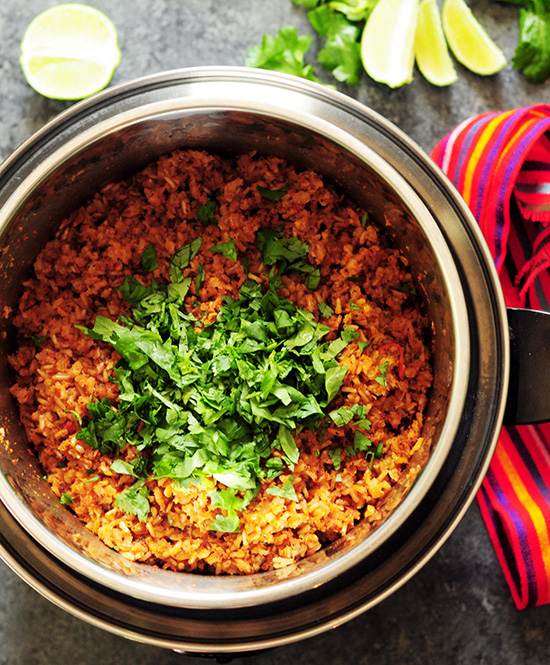 #14: CHICKEN RISOTTO WITH A CREAMY VELVETY TEXTURE 
Risotto cooked in bone broth is a uniquely nutritious twist on a classic Italian dish. Making the perfect risotto with a creamy, velvety texture isn't an easy task. Learn how to get your risotto just right for a tasty summer meal with this Chicken Risotto Recipe.
#15: RASPBERRY BONE BROTH COLLAGEN GUMMIES
Let's not forget about dessert. Relive a bit of your childhood while promoting youthful skin with these collagen-boosting gummies. Tart, sweet, and perfectly chewy, these raspberry gummies are a refreshing summer treat that will make you feel good inside and out.
Upgrade Your Summer Recipes With Bone Broth
Whether you make your own or choose a ready-to-eat option, any summer meal can be instantly upgraded with the addition of slow-simmered bone broth. The foundation for many delicious real food recipes is broth — and you'll be hard-pressed to find a foundation with more essential nutrients than bone broth.
Pin for later: