Keto Fat Bombs with Cacao and Cashew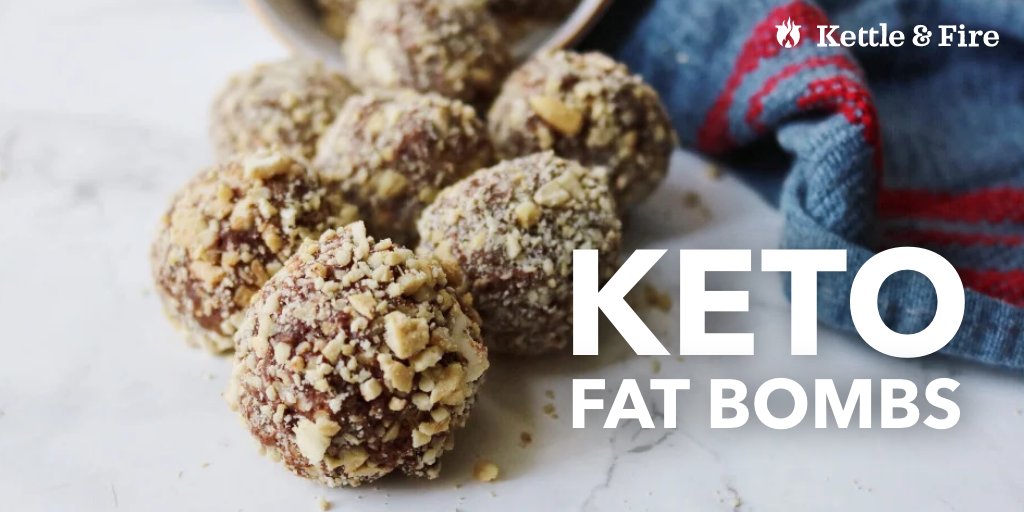 With a truffle-like texture and perfect amount of crunch, these keto fat bombs are about to become a favorite in your keto treat stash. These little bundles of joy are so rich in energizing, healthy fats that they're only considered a "treat" because they taste so good.
If you're not familiar with the keto diet, let's first take a look at the benefits, plus how much fat you should actually be eating if you choose to try it.
Keto Fat Bombs Recipe Macros
Calories: 133
Protein: 4g
Fats: 11g
Total Carbs: 6g
Net Carbs: 3g
Why Follow a Keto Diet?
The ketogenic diet is a high fat, low carb diet that's become increasingly popular for a number of benefits. As we explain in our keto diet comprehensive guide, the principle of the keto diet is to eat fat to burn fat.
By heavily restricting carbs — your body's primary fuel source — your body begins to burn your fat stores for fuel instead, which produces ketones. This state of elevated ketones in the bloodstream is called ketosis, hence why it's dubbed the ketogenic diet (1).
In addition to weight loss and increased energy, the keto diet has been shown to support skin health, cognitive function, memory, and hormonal balance (2).
While many people assume transitioning to a keto diet may be difficult, there are tons of keto recipes that incorporate delicious healthy fats, such as coconut butter, coconut oil, and almond butter. Many easy keto meal options and low carb recipes incorporate ingredients like dark chocolate (keto chocolate fat bombs, anyone?), so it's safe to say your sweet tooth won't be missing out.
How Much Fat Do You Need on the Keto Diet?
People following the keto diet eat a small amount of protein and very few carbs. That leaves the rest of the micronutrient consumption to fats — anywhere between 60–75 percent.
There are four different types of keto diets you can follow. Each version is high fat and low carb but with different macronutrient ratios.
The Standard Ketogenic Diet is the most popular version of the keto diet, which recommends 75 percent fat, 20 percent protein, and 5 percent carbs.
The second type is the High Protein Keto Diet, which is geared mostly towards extremely active people or athletes. This version of the keto diet recommends 60 percent fat, 35 percent protein, and 5 percent carbs.
If you're following the keto diet to lose weight, you typically won't eat more than 20–25 grams of carbs per day. People who are extremely active are the exception, as they require more fuel (3).
The macronutrient ratios of your keto meals can vary depending on your personal needs. However, your fat ratio must always be significantly higher than carbs and proteins.
This keto calculator can give you a sense of how much fat you should be eating, although your individual nutrient requirements may vary if you have pre-existing health conditions. In this case, it's best to consult with a qualified healthcare practitioner to determine your unique nutrient needs so you can achieve the results you're looking for.
What Kind of Fats Are OK?
Since fats make up 75 percent of dietary macros, they're a vital aspect of the ketogenic diet. There are four types of ketogenic-approved fats: saturated fats, polyunsaturated fats, monounsaturated fats, and naturally occurring trans fats (4).
For many years, experts believed that consuming too many saturated fats could potentially be linked to cardiovascular disease. More recent research has shown that there is no direct link between saturated fats and heart disease and that these fats are actually beneficial for your body (5).
Some saturated fats also contain medium-chain-triglycerides (MCTs), which the body digests easily and converts into energy for enhanced physical performance and accelerated fat loss. MCTs are commonly found in oils such as coconut oil and MCT oil.
Why Fat Bombs Make the Perfect Treat
One of our favorite ways to incorporate MCTs is through no-bake fat bomb recipes. From chocolate chip cookie fat bombs to peanut butter fat bombs, the options are endless! They're easy to make and take less than 20 minutes — perfect for meal prepping on the weekend. They're typically made with no sugar or additives, so this is a treat you can feel good about reaching for.
Enjoy these keto fat bombs for breakfast, as a pre-workout and post-workout snack, a healthy dessert, or anytime you feel like you could use a pick-me-up. The MCTs from the coconut oil provide your body with a fast-digesting source of energy, while the cacao powder, raw cashews, almond butter, and coconut flour provide antioxidants. Most importantly, these keto fat bombs will help you meet the daily fat requirements needed to stay in ketosis.
Who knew that burning fat could be this delicious?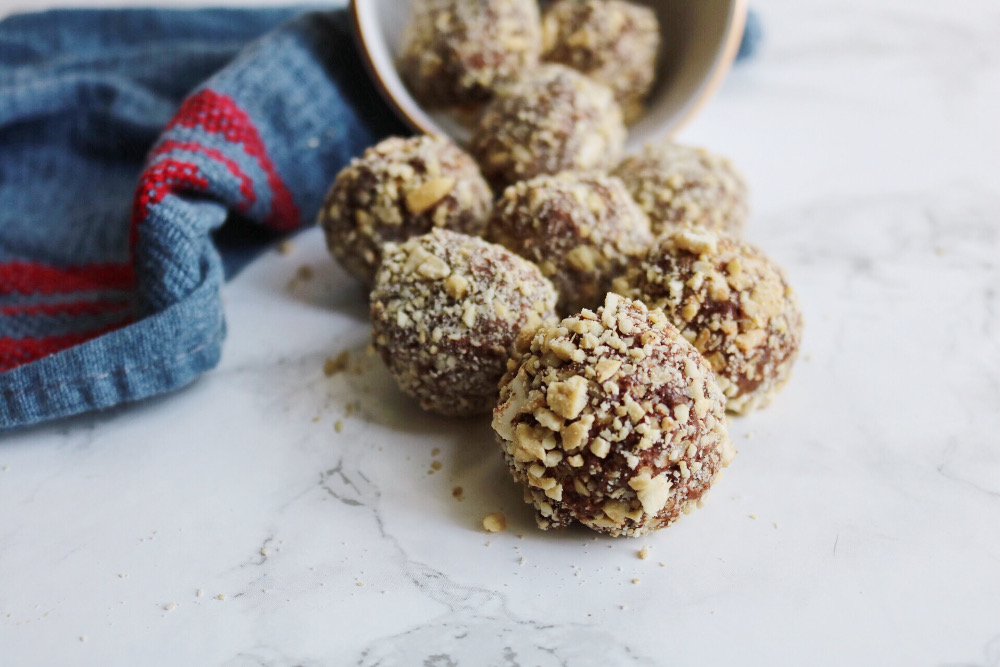 Keto Fat Bombs with Cacao and Cashew
With a truffle-like texture and perfect amount of crunch, these keto fat bombs will help you meet the daily fat requirements needed to stay in ketosis. In addition to being keto-friendly, they're also paleo, vegan, gluten-free, and dairy-free. Feel free to make this recipe your own by adding a dash of high quality, sugar-free vanilla extract, or a pinch of sea salt.
Ingredients
1

cup

Coconut Oil

1

cup

Almond Butter

¼

cup

Coconut Flour

½

cup

Cacao Powder

1

cup

Raw Cashews
Instructions
In a non-stick medium saucepan over medium heat, heat coconut oil, and almond butter until mixed evenly, stirring often.

Pour the oil mixture from the pan into a bowl and mix in coconut flour and cacao powder.

Place bowl in the freezer for about 15 minutes until mixture cools and is solid.

While the mixture is cooling, place the cashews in a food processor and pulse lightly for a chopped texture.

When the coconut mixture is solidified, take 1/2 tablespoon of the mixture from the bowl, roll into a ball, and dip in the blended cashews. Place fat bombs on a plate. Repeat until you have used all of the mixture.

Refrigerate the fat bombs for 5 minutes.

Enjoy and make sure to store your leftover fat bombs in the refrigerator, otherwise they will melt quickly.
Recipe Notes
Keto | Gluten Free
Nutrition Facts
Keto Fat Bombs with Cacao and Cashew
Amount Per Serving (1 fat bomb)
Calories 133
Calories from Fat 99
% Daily Value*
Fat 11g17%
Sodium 5mg0%
Potassium 168mg5%
Carbohydrates 6g2%
Protein 4g8%
Calcium 49mg5%
Iron 1.2mg7%
* Percent Daily Values are based on a 2000 calorie diet.