The Best Leftover Turkey Recipe: Turkey Pot Pie (with Bone Broth)
A leftover turkey recipe should be easy to make, wholesome, filling, and flavorful. We guarantee this turkey pot pie will exceed your expectations. Comforting homestyle cooking meets simplicity, as this turkey pot pie requires only five steps from start to finish.
How to Make Turkey Pot Pie in Five Easy Steps
To make a turkey pot pie, you're going to need a large non-stick skillet and a nine-inch pie dish.
Step One: In the large skillet, sauté veggies (celery, carrots, potatoes, and onions) in butter until they're fork-tender, stirring in thyme leaves as they cook.
Step Two: Sprinkle all-purpose flour into the skillet. Cook for about one minute, stirring the whole time.
Step Three: Gradually add bone broth and milk. Reduce the heat to medium and cook until mixture becomes thick and bubbly. Stir constantly.
Step Four: Add your leftover cooked turkey to the skillet and stir well until thoroughly combined.
Step Five: Pour mixture into a nine-inch pie dish and top with pie crust. Bake until the pie crust is golden brown and the inside filling is bubbly and thoroughly cooked. Enjoy!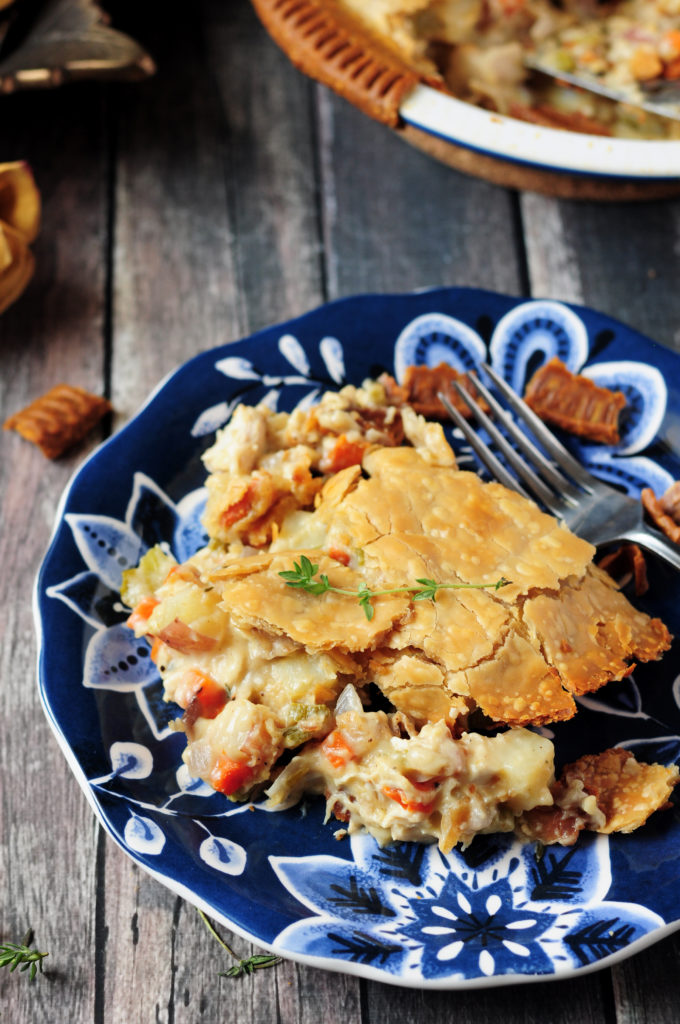 How Long Does It Take to Cook Turkey Pot Pie?
After you've poured the turkey pot pie mixture into the pie crust, it will need about 40-50 minutes in the oven to cook to crispy, golden perfection. From start to finish, the cook time is approximately one hour.
What to Serve with Turkey Pot Pie
Since this turkey pot pie is filling and hearty, a simple green salad would be the perfect side. We'd recommend something along the lines of spring mix or arugula topped with sliced red onions, cherry tomatoes, and cucumbers,then drizzled with a balsamic vinaigrette.
P.S. This yields six servings, so whether you're cooking for company or batch cooking for the week, this turkey pot-pie recipe will make sure you get the most bang for your buck when it comes to repurposing your leftovers.
Turkey Pot Pie
The best leftover turkey recipe is one that's easy, flavorful, and filling. This turkey pot pie with bone broth checks all the boxes. Perfect for a rainy day.

Ingredients
3

tablespoons

butter

1

cup

potatoes

diced

1

cup

onions

diced

1

cup

celery

diced

1

cup

carrots

diced

Salt and pepper to taste

1

tablespoon

fresh thyme leaves

minced, or 1 teaspoon dried thyme

1/2

cup

all-purpose flour

1

cup

milk

2

cups

turkey

cooked and chopped

1

pie crust
Instructions
In a large non-stick skillet, melt butter over medium-high heat. Add potatoes, onions, celery, and carrots in the skillet. Add a pinch of salt and pepper to taste. Sauté for about 10 minutes or until the vegetables are tender. Stir in thyme leaves while cooking.

Sprinkle flour into the pan. Cook for one more minute, stirring constantly. Gradually stir in broth and milk. Reduce heat to medium and cook until the mixture is thickened and bubbly, stirring constantly.

Add turkey and stir well.

Pour the mixture into a 9-inch pie dish and top with pie crust. Trim off the excess crust alongside the edge of your pie dish. Cut slits in the middle to allow steam to escape.

Bake the pie for 40-50 minutes or until pastry is golden brown and the filling is bubbly and cooked through.
About the Author

Sharon Chen is the founder and creator behind StreetSmart Kitchen, a recipe website that helps busy professionals to prepare healthy meals in less time they ever thought possible. Download her Top 18 One-Dish Meals Cookbook for free here: http://bit.ly/SSK-Free-Cookbook