Easy Chicken Tortilla Soup Made with Bone Broth
When you're in the mood for something warm, savory, and healthy, this easy chicken tortilla soup won't disappoint. Roasted tomato and chicken bone broth base make it flavorful and healthy, while toppings like avocado, tortilla chips, and cheddar cheese create a perfect blend of textures.
You may know this Mexican soup as traditional comfort food, but do you know that tortilla soup's origin is a mystery? No one really knows what part of Mexico tortilla soup (or sopa de tortilla) came from or exactly how it was traditionally cooked.
This could be why there are many variations of tortilla soup served throughout Mexico and different parts of the world, but they always have a few key ingredients in common: roasted tomatoes, chicken broth, onion, cilantro, chiles or hot sauce, avocado, shredded chicken, and garlic.
Aside from these fundamental ingredients, feel free to customize this tortilla soup recipe to suit your taste buds. For example, you can adjust the amount of spice or experiment with different toppings.
We aim to make our bone broth recipes as healthy as possible, so we made this easy chicken tortilla soup with Kettle & Fire Chicken Bone Broth (as opposed to a regular chicken stock or broth) and a few extra vegetables like zucchini, carrots, and peas.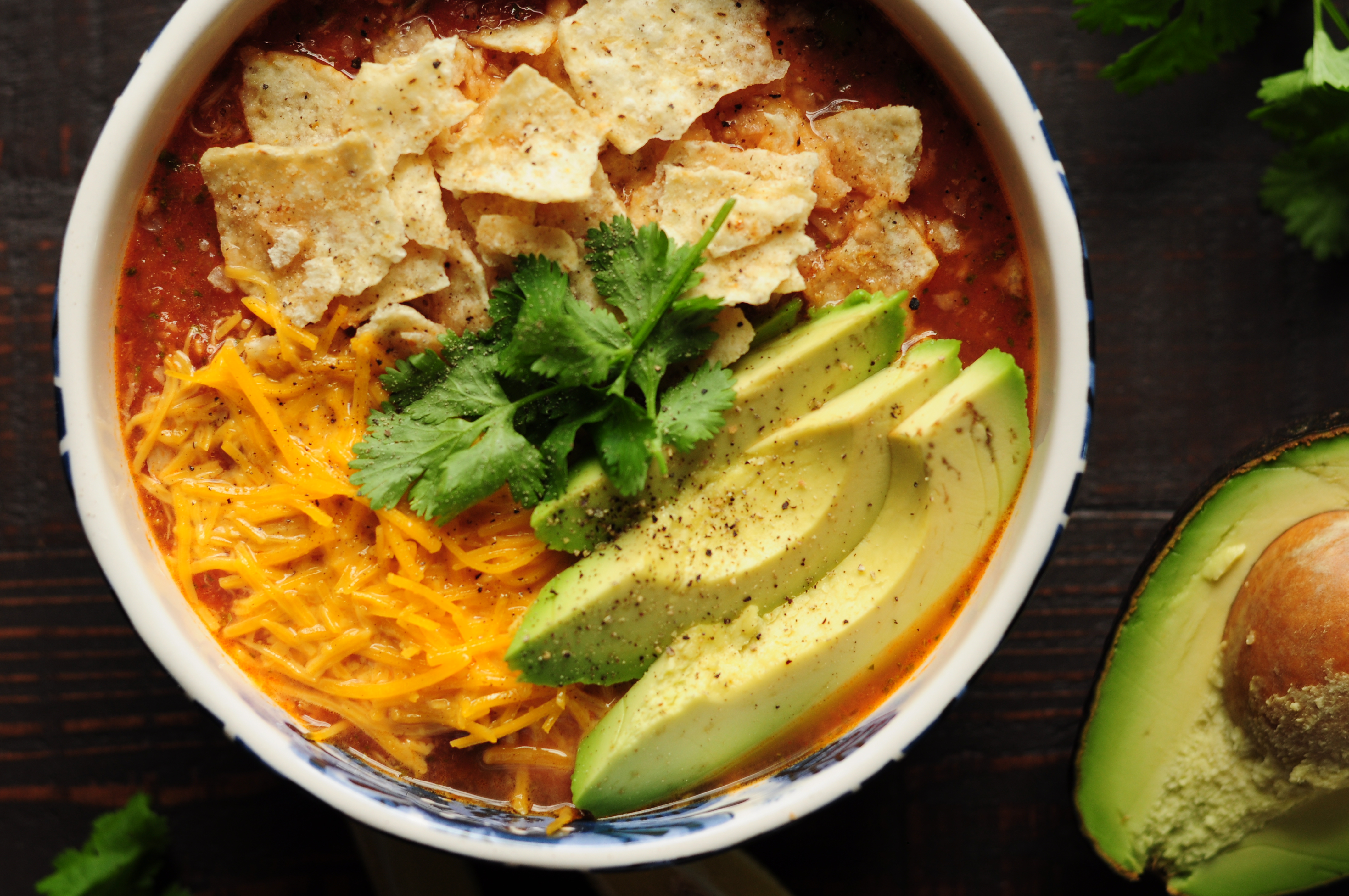 How to Make Chicken Tortilla Soup
Step One: To make this chicken tortilla soup recipe, start by roasting Roma tomatoes in the oven for ten minutes.
Step Two: Blend the tomatoes with garlic, raw onion, chicken bone broth, and cilantro to make the soup base.
Step Three: Once the soup base is ready to go, transfer it to a saucepan and bring to a boil. In the meantime, saute carrots, zucchini, and peas until tender. Add those to the soup base along with shredded chicken and hot sauce (if desired).
As mentioned, some tortilla soup recipes don't call for an extra serving of vegetables, but we chose to add them to sneak more of the good stuff into this recipe—such as fiber, vitamins, and minerals.
What to Serve with Chicken Tortilla Soup
Perhaps the best part of this chicken tortilla soup recipe is the heavenly toppings. Once you dish up the soup, top it with sliced avocado, cheddar cheese, cilantro, and tortilla chips. Finish with a squeeze of lime juice.
If you have whole corn tortillas, you can opt to use those in place of tortilla chips (which is what traditional Mexican versions of tortilla soup do). Simply cut them into thin vertical strips and lightly fry in a pan until they're crunchy. Add to your soup bowl and voilà.
Chicken Tortilla Soup
Can you make Mexican soul food in 45 minutes or less? Yes, this easy chicken tortilla soup recipe makes it possible. Best of all, it's made with bone broth.
Ingredients
2

cups

zucchini

diced

2

cups

frozen carrots and peas

1/2

cup

white onion

diced

1/8

teaspoon

Ghost Pepper Hot Sauce

or your desired hot sauce (optional)

2

cups

shredded chicken
For the soup base:
8-10

Roma tomatoes

or 1 (32-oz) can diced tomatoes

1/2

cup

white onion

roughly sliced

1

cup

cilantro

firmly packed

3

large cloves

garlic

2

cups

Kettle & Fire Chicken Bone Broth

1 carton

salt to taste
For the topping:
2

cups

tortilla chips

crushed and divided (Use corn chips for a gluten-free version)

2

avocados

sliced and divided

1

cup

shredded cheddar cheese

divided

Fresh cilantro for garnishing

Lime or lemon wedges for serving
Instructions
Preheat oven to 350°F. Roast Roma tomatoes for 10 minutes. In the meanwhile, chop up vegetables.

When tomatoes are done, allow to cool. Quarter each one and place into your food processor or blender with garlic, roughly sliced onion, cilantro. Add chicken broth and a pinch of salt. Blend until smooth. (Depending on the size of your blender, you might need to process two or three batches to finish up the ingredients. It took me twice with my 8-cup food processor.)

Pour soup base into a saucepan and bring to a boil.

In a sauté pan, melt butter and sauté diced onion over high heat until fragrant. Add carrots and cook for 5 minutes. Add diced zucchini into the pan. Cook until the vegetables are tender.


Transfer cooked vegetables into the soup base. Add sweet peas and bring to a boil again. Stir in shredded chicken. Reduce to medium heat and simmer for 15 minutes. Stir occasionally. Taste and adjust the flavor by adding more salt if desired.

Drop in hot sauce. Stir until even. This is optional.

Dish. Top with tortilla chips, avocado slices, cheddar cheese, cilantro for each serving. Squeeze a dash of fresh lime juice. Enjoy!
About the Author

Sharon Chen is the founder and creator behind StreetSmart Kitchen, a recipe website that helps busy professionals to prepare healthy meals in less time they ever thought possible. Download her Top 18 One-Dish Meals Cookbook for free here: http://bit.ly/SSK-Free-Cookbook