15 Best Recipes with Chicken Broth That Aren't All Soups
Do you have store-bought or homemade chicken broth taking up space in your kitchen? If so, one thing is for certain: you don't want this mineral-rich liquid to go to waste.
To inspire you to put it to good use, here are 15 recipes with chicken broth that will help you use it up in the tastiest ways possible. They're not all soup recipes, either (although a few winners did make the list). Silky Chinese steamed eggs and cauliflower puree are among our favorites.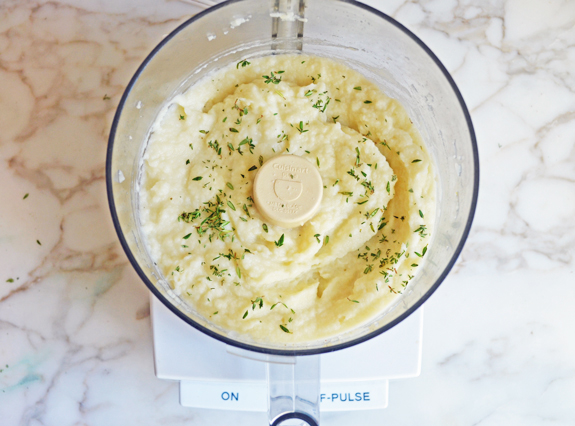 This cauliflower puree is creamy, comforting, and tastes just like mashed potatoes, especially when topped with a few sprigs of fresh thyme. Just when you think it can't get any better, you'll scroll down and see this recipe requires only six basic ingredients and five minutes of prep time.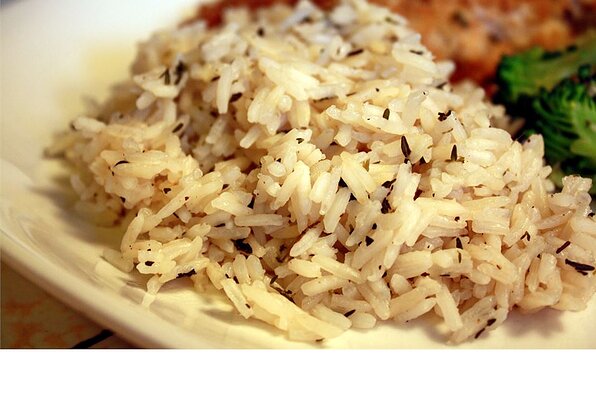 Looking for an incredibly easy recipe to serve as a side dish? Super simple doesn't have to mean super boring. White rice, chicken broth or chicken stock, salt, pepper, and herbes de Provence turn your bland white rice into a crowd-pleasing flavor bomb. Perfect for serving alongside roast chicken, turkey, or even tofu.
You could also substitute wild rice, brown rice, or quinoa for white rice
Although labelled as a "detox" chicken soup recipe, this is simply a nourishing soup loaded with nutrients to boost immunity. Featuring ginger, chicken broth, parsley, garlic, broccoli, celery, and boneless, skinless chicken breasts, this recipe is also a great way to empty your produce drawer.

Of course, there's no need to be feeling under the weather to enjoy this chicken soup recipe. It's perfect any time, any day.
Are scrambled eggs and omelettes getting redundant? Chinese steamed eggs may quickly become your new favorite breakfast.

A traditional and simple protein-rich breakfast served throughout China, steamed eggs get their heavenly savory taste from soy sauce and chicken broth. The silky texture comes from steaming the eggs to perfection. If you haven't steamed eggs before, don't worry— we promise it's easier than you think and all but impossible to mess up.

Note: This recipe calls for bone broth, but you can swap it for regular chicken broth or chicken stock. It will still yield the same delicious result.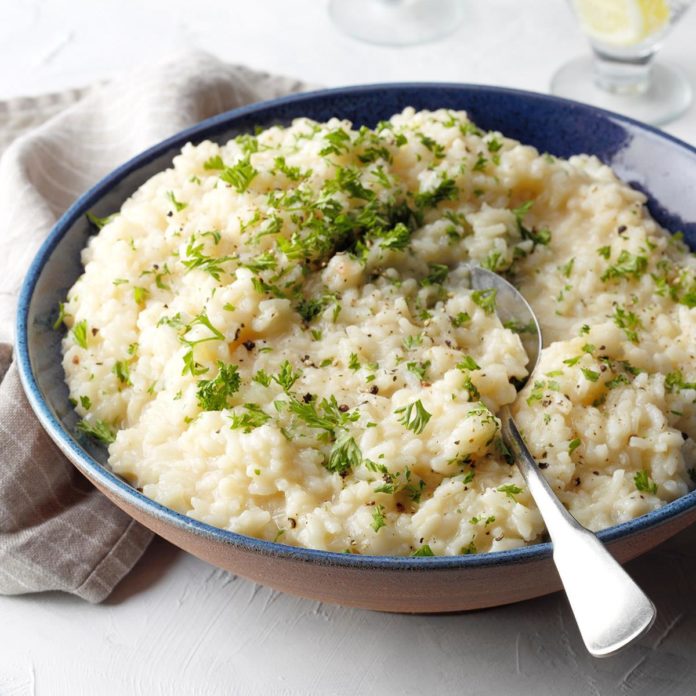 A comforting Italian classic done right. Aborio rice gets cooked in white wine, garlic, and chicken broth until creamy and tender. Parsley, black pepper, and parmesan cheese are stirred in at the last minute to yield the classic smooth, velvety texture (and perfect savory flavor).

According to reviews, this recipe makes a huge batch that also freezes well, should you be cooking for several guests or wanting a few weeknight meals to stash in the freezer and easily defrost.
A restaurant-worthy soup that you can throw together in 30 minutes? We're here for it. One of the secrets to the texture and flavor of this soup is that it's thickened with eggs that have been whisked with lemon juice. Suffice to say, this isn't your average chicken soup recipe. There are some serious gourmet vibes in this dish.
Another tip the author suggests to make this soup extra flavorful is to use high-quality chicken bone broth or homemade chicken stock or broth. However, if you have the store-bought chicken broth, you can easily enhance the flavors by adding some chopped onion or even a chicken bouillon cube to the broth.
When you're not feeling up for classic chicken soup, we guarantee this hearty (and fully loaded) Mexican classic will appease you.

Black beans, fire-roasted tomatoes, garlic, chicken, chicken broth, and heavenly aromatics make an authentic (and addictive) tasting soup base.

Once the soup is cooked and simmered, then comes the fun. Load it up with grated cheese, tortilla strips, sour cream, buttery soft avocado, hot sauce, cilantro, jalapeno, and fresh scallions. Que rico.

This recipe calls for chicken thighs, but when we make tortilla soup, we often use leftovers from a rotisserie chicken or leftover chicken breast. You can also add extra veggies (such as zucchini) to the broth for more texture and nutrition.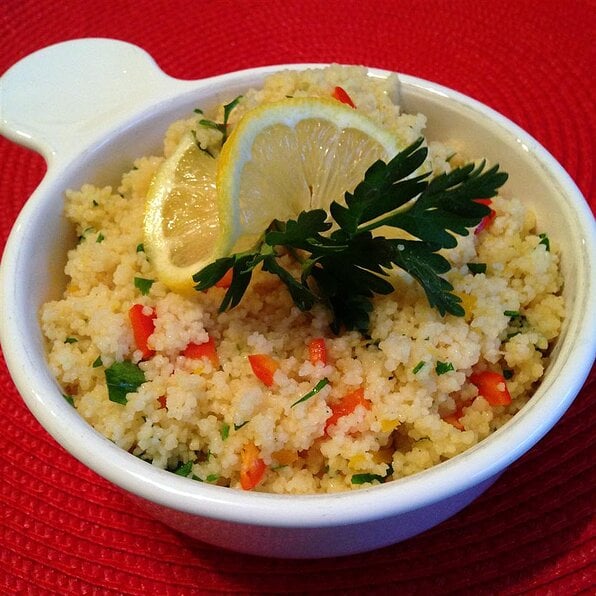 Another quick, easy, and flavorful side dish idea that isn't rice or potatoes.

This fluffy lemon couscous is cooked in a base of homemade or store-bought chicken broth, lemon juice, lemon zest, butter, and salt. Topped with pine nuts and parsley, this dish hits all the spots for flavor and texture.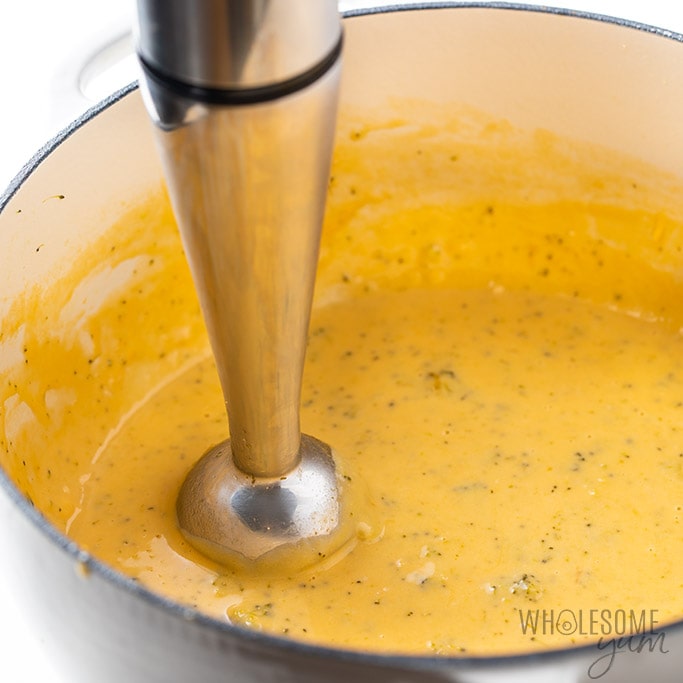 When you find a rich and creamy broccoli cheese soup that's keto-friendly, gluten-free, and requires only five ingredients, the right thing to do is to share it.

Traditional broccoli cheese soup recipes use white flour or starch as a thickener. However, this recipe simply relies upon the heavy cream and cheddar cheese to reach the desired consistency. And it works. It also gets bonus points for being ready in just 20 minutes total time.
Do we have any French cuisine or leek lovers in the house? This puréed soup is the ultimate comfort food: thick, creamy, savory, and smooth. It's also made with a fairly simple ingredients list. All you need are Yukon gold potatoes, butter, bay leaves, fresh thyme, chicken broth, cream, leeks, and garlic.

While some puréed soups call for an immersion blender, you can purée this one in a regular blender. You can also make a big batch to freeze for up to three months (just omit the cream if you plan on doing so).
Savory baking in all its glory, this chicken pot pie recipe is likely to be a classic that you'll turn to again and again. You get the most bang for your buck with this recipe, as it makes two pies (with only three cups of chicken broth total). Perfect for when company is coming or if you know you'll need an extra nourishing meal for a busy night ahead.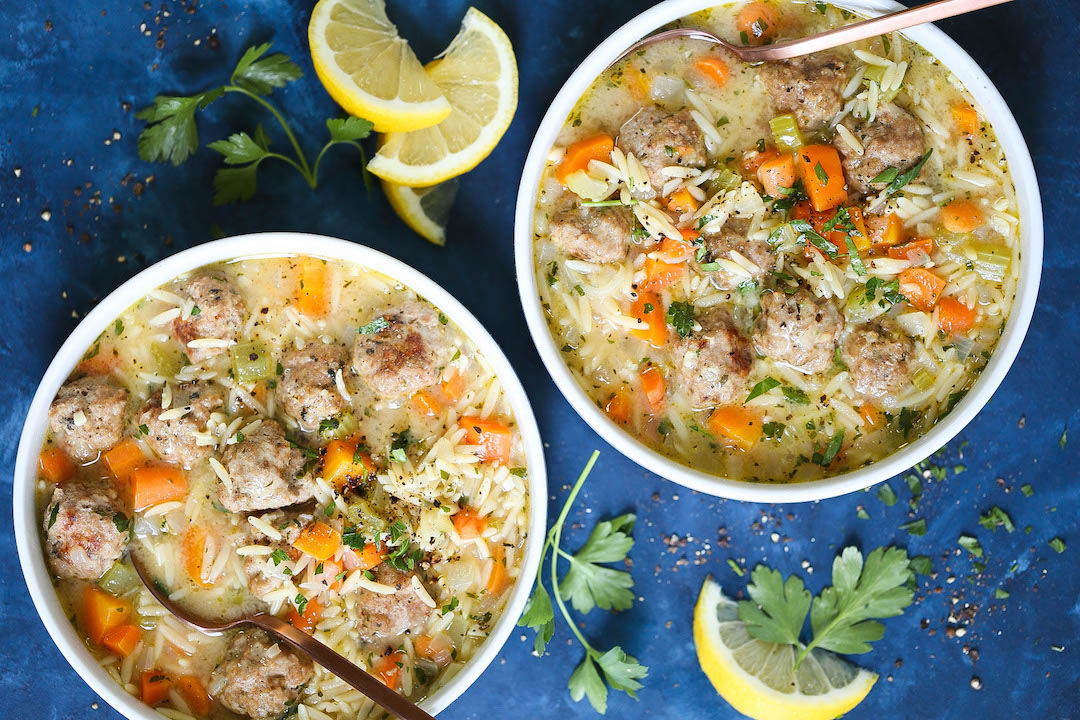 Sometimes, you just want a cozy, comforting meatball soup. This soup features all the ingredients of a classic chicken noodle soup— such as celery, carrots, rosemary, and thyme— but with orzo pasta and homemade chicken meatballs.

If this is your first time making homemade meatballs, rest assured, this recipe makes the whole process a piece of cake. This meatball method would also work for turkey or beef, in case you want to bookmark it for later.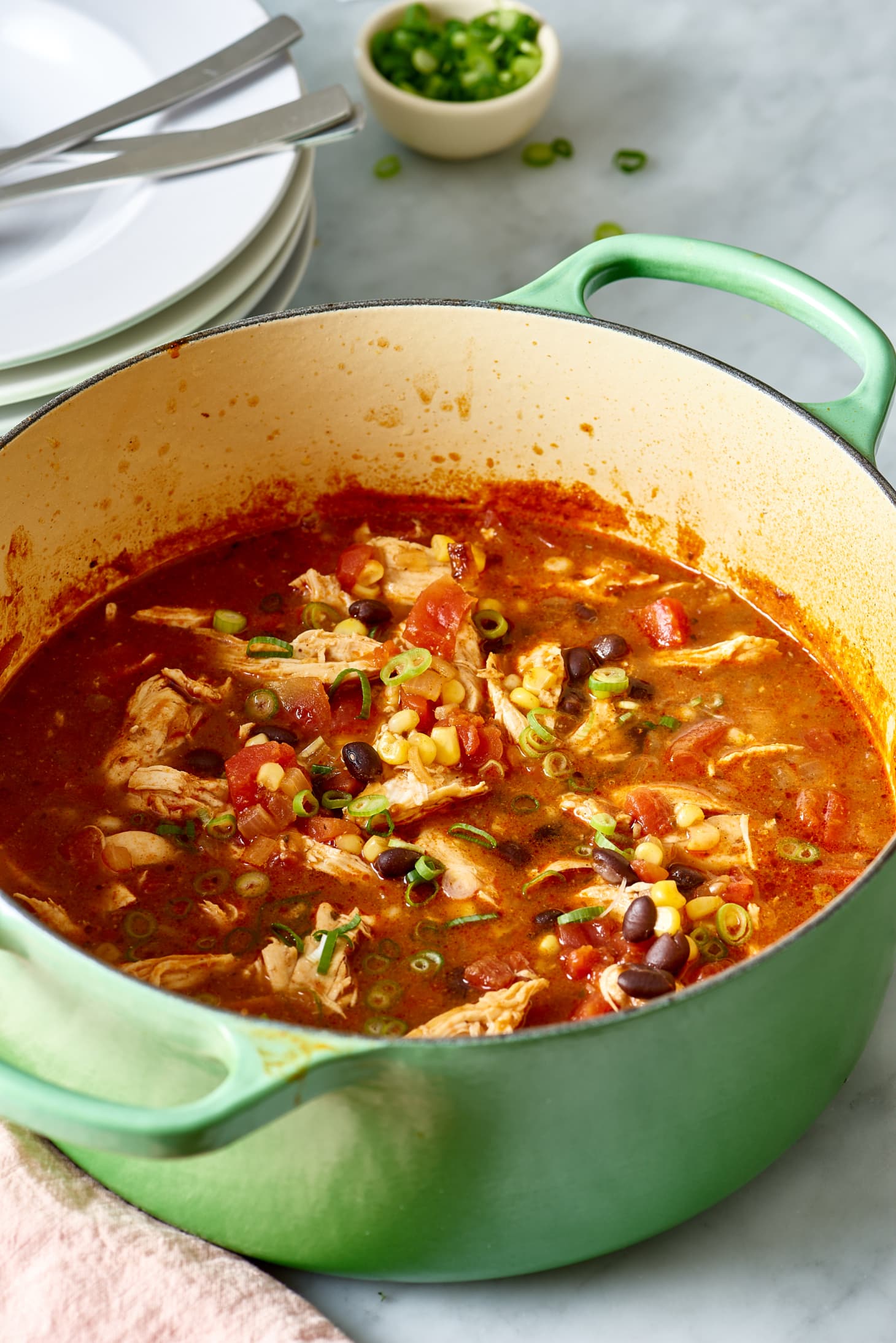 A new way of doing Taco Tuesday (and perhaps the easiest clean-up in Taco Tuesday history). This one-pot chicken taco soup features all of the best fixings for tacos: black beans, tortilla strips, corn, cheddar cheese, scallions, and juicy poached chicken breast. *Drool*

Cumin, chili powder, paprika, oregano, and garlic bring the necessary "smoke and spice" to this taco-inspired recipe. With all of this flavor, you won't feel for a moment you're missing out without the handhelds.
Dumplings have a special way of warming the soul, and these buttermilk, chive, and roasted chicken dumplings are equal parts comfort, nourishment, and bliss. Repurpose your leftover shredded chicken and chicken broth in this recipe to create a whole new satisfying, savory meal.

If you're a crock pot/slow cooker/Instant Pot lover, this recipe has a cooking method for that too.
It may be last, but it's no less delicious. We're finishing off this epic chicken broth recipes list with a simple crockpot chicken kale soup. We love this chicken kale soup because it's easy to customize, and you can make it with minimal ingredients on hand. As long as you have a few veggies, a grain (pasta, rice, or quinoa), chicken broth, chicken (breasts or thighs), and a few seasonings like garlic and onion powder, then the recipe is going to be a success no matter how you make it.

Best of all, you can set it and forget it for 8 hours, then return to a kitchen filled with the tantalizing aromas of homestyle cooking.